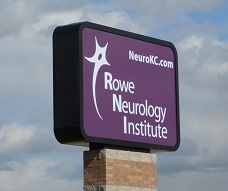 Rowe Neurology Institute
8550 Marshall Drive suite 100
Lenexa, KS 66214
87th Street Exit West side of 435
SUBMIT THE FORM BELOW AND SOMEONE AT ROWE NEUROLOGY INSTITUTE WILL CONTACT YOU WITHIN TWO BUSINESS DAYS
WE SEE NEW PATIENTS WITHIN 3 DAYS, SOMETIMES SOONER. EACH DAY YOU SUFFER WITH SERIOUS SYMPTOMS IS A QUALITY DAY LOST!
IF YOU ARE NEW TO ROWE NEUROLOGY INSTITUTE, YOU CAN ALSO CALL 913-749-0050 or 913-894-1500 to speak to an RNI navigator during business hours.
High Deductible Plan ?
WE ARE A HIGH QUALITY-COST EFFECTIVE PROVIDER, AND CAN HELP YOU GET THE MOST FOR YOUR HEALTHCARE DOLLAR.
ROWE NEUROLOGY INSTITUTE has NO FACILITY FEES tacked on, unlike hospitals, and are
Independent, though we work with all hospital systems..
ROWE NEUROLOGY INSTITUTE works with Health Savings Accounts and Care Credit, participate in most insurance plans, and take all major credit cards.
MAKE AN APPOINTMENT NOW—DON'T WAIT!
Your browser is not allowing JavaScript to run. The form will still be submitted when you press the Submit button, but you won't see anything happen. After pressing Submit once, please check your email for confirmation that your request was sent.
After filling in the required fields and pressing Submit once, please check your email for confirmation that your request was sent.