Got migraines? Your sleep apnea may be to blame!
Sleep apnea can cause headache and pinched nerve neck pain, or cervical radiculopathy, as recently reported by RNI researchers at several professional meetings.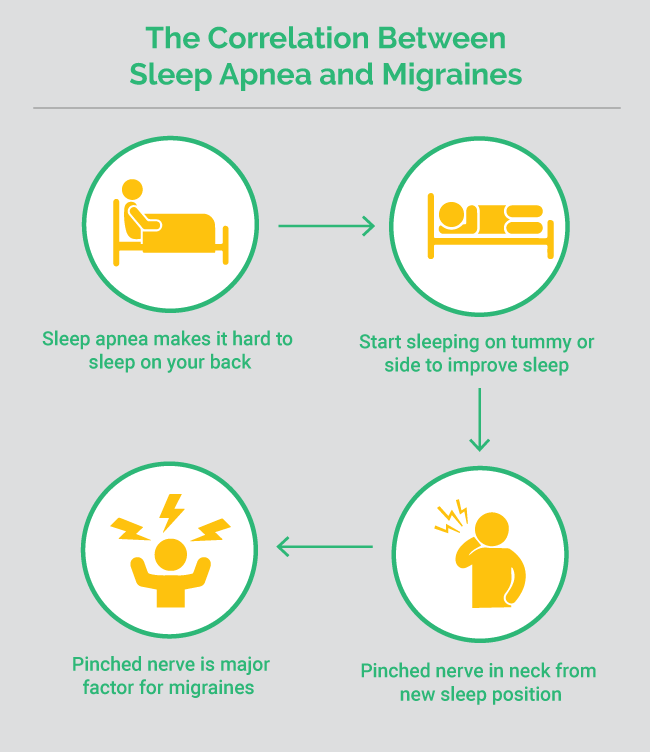 Kansas City Neurologists at the Rowe Neurology Institute in Lenexa, Kansas, have seen many patients with the primary complaint of headache and intractable headache who also had sleep problems. So we did a retrospective chart review of our electronic medical records database. We looked at the records from all patients with the primary complaint of headache or intractable headache who had come to our Headache Center over a one year period. The results can be viewed here.
New patients with primary headache diagnosis
Of the 700 headache patients included in the study, 71% had a diagnosed sleep disorder, and 277 of these had an overnight sleep study or polysomnogram. Many patients also had EMG studies if they had any symptoms of pinched nerves in their neck.
It showed that almost 71% of the headache patients had a sleep disorder.

New Patients with Primary Headache Diagnosis with Diagnostic Polysomnogram
The most common sleep study diagnosis of the headache patients who were able to carry out sleep studies was Obstructive Sleep Apnea (OSA) or its milder variant, Upper Airway Resistance Syndrome (UARS).
81% of these headache patients also had a pinched nerve in their neck, as diagnosed with EMG studies.
Most of these patients slept on their side or abdomen, because the presence of sleep apnea or increased upper airway resistance during sleep makes it very difficult for someone to sleep on their back.
What do these findings tell us
In short, your sleep apnea and migraines could be related.  These findings strongly suggest that lateral and prone sleep positions (sleeping on the side or tummy), necessitated by even mild sleep apnea or increased upper airway resistance during sleep, are associated with pinched nerves in the neck, which then can be a major predisposing factor for headache, intractable headache, and the migraine cascade.
Do you suffer from sleep apnea and migraines? Contact us to find out how we can help.
Call us at 913-894-1500 or