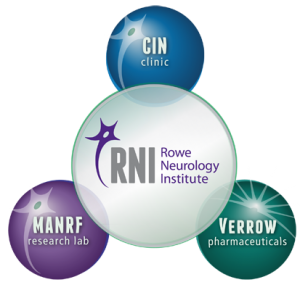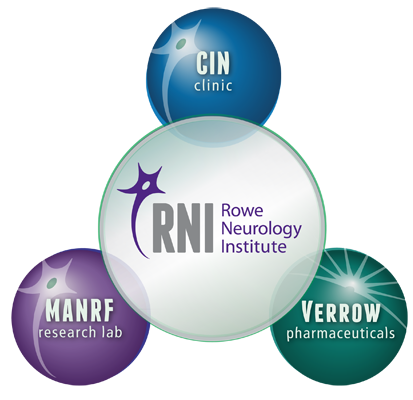 The Rowe Neurology Institute is unique in its integration of laboratory and clincal research into a cutting edge independent clinical Neurology practice.  Our basic research is always directed toward the clinical needs of our patients, and we have presented our research at numerous national meetings.
The MidAmerica Neuroscience Research Foundation carries out clinical research and when it generates funding by doing industry clinical trials of promising new medications for our patients, we use that funding to carry out basic laboratory research to find new therapies.
When RNI scientists find a new therapy that has the potential of being developed to the point of actually being used in clinical practice, in order to generate the funding that clinical development requires, we form a commercial company for that purpose.  Verrow Pharmaceuticals, Inc is the first company that we formed, to get to patients a new iodinated contrast agent that is less toxic to the kidneys than the ones now in use.  Verrow Pharmaceuticals Inc has now been acquired by Ligand Pharmaceuticals, Inc, and they will take this important new kidney safe contrast agent into the clinic.
Our physicians and scientists are back in the lab researching new therapies and concepts to attach neurological diseases.
click Here KC-area startup sells to Ligand – Kansas City Business Journal
click here for our published paper on our Kidney Safe Contrast agent
click here To see our Hypermobility Posters Presented at Sleep and Headache National Meetings