October is designated as Physical Therapy Month and to celebrate the physical therapists from the Multiple Sclerosis Center at Rowe Neurology Institute (RNI) wanted to give something back to an incredible group of patients.  On October, 11th 2012, RNI hosted the 3rd Annual Multiple Sclerosis, Physical Therapy Night and Wii Bowling Tournament.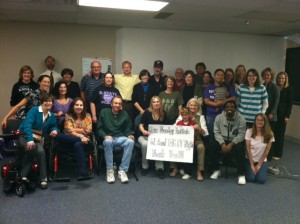 Turnout for this fun event was anticipated to be around 30 people so the event was moved from RNI's PT gym to an open room across the hall.  In all, 45 people came and participated in educational sessions, product demonstrations, food, fellowship and of course the Wii Bowling tournament on the big screen.
A very special thank you goes out to:
Amy Dix, PA for presenting a nutritional health session and providing tasty smoothies for the group.
Bio-gen idec for bringing event supplies and prize pack giveaways as well as sponsoring Amy Dix, PA and her healthy smoothies.
Polar Products for supplying some participant giveaway prizes.
Bayer for sponsoring the food catering and prize giveaways.
Grandma's office catering was a great hit with everyone.
Bioness for demonstrating both the L300 (lower extremity unit) and the H200 (upper extremity unit) on some of the patient's who were interested in trying this unique technology.
Overall, this event was the biggest and best MS PT Night yet.  Kelli Wong, DPT, who did a lot of the planning and work behind the scenes to make this event so successful felt that all the hard work to put this together was worth it. "It was great to see so many of our patients mingling, smiling, sharing stories and laughs together.  The guests who attended are still talking about it their exercise classes this week."
The physicians and staff at RNI wish to thank our physical therapists (Shane Jackson, DPT,Amy Nichols, DPT, and Kelli Wong, DPT) for all of the work they do!