Rachel Williams, PhD, of MidAmerica Research Foundation (MANRF) has been awarded a grant from the Heartland Border Walk for MS to study the remyelination properties of a protein not currently being studied in MS.  This protein has been well characterized in other diseases but has only recently been discovered to have remyelination capabilities, which is considered the "holy grail" of Multiple Sclerosis (MS) therapy.
Remyelination in Multiple Sclerosis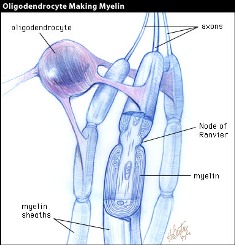 One of the main pathologic characteristics of MS is the destruction of the myelin sheath, or demyelination.  The myelin sheath coats the neuronal axons allowing for electrical impulse conduction from the brain to the rest of the body. It also protects the neuronal axon from further damage.  Oligodendrocytes are the cells responsible for synthesizing the myelin sheath and have the unique ability to remyelinate the damaged axons after injury.  Unfortunately, this remyelination process in MS is inconsistent and leaves the injured axons exposed and vulnerable to neurodegeneration, which can lead to permanent disability.
New Target in Multiple Sclerosis Therapy
The central hypothesis of Williams' study is that this protein for MS, regulates the production of myelin proteins, which ultimately drives the oligodendrocytes' ability to remyelinate after a multiple sclerosis derived injury. This research will provide a significant advancement for the MS field since it represents a novel therapeutic target for stimulating remyelination.  Currently there are no pharmaceutical drugs marketed with the explicit purpose of remyelinating damaged neurons. Such a therapeutic target holds the promise to reverse neuroaxonal damage and stymie the neuronal degeneration that leads to permanent disability in MS.
Multiple Sclerosis Research
The experiments for this study will be conducted in the MANRF lab.  MANRF is the nonprofit research arm under MidAmerica Neuroscience Institute (MANI), headquartered in Lenexa, KS and founded by neurologist, Vernon Rowe, MD, who is the co-investigator of the study and director of MANI's Multiple Sclerosis Center.
The Heartland Border Walk for MS recently completed their 4th annual fundraising walk which is an all volunteer-led fundraiser to help provide a better quality of life and the hope for a cure for those living with MS.  Learn more about this fine organization on the website or visit theirFacebook page to see photos from their Walk.